 Running Out of Funds
10 minute read
Zhelnov P. Running out of funds. Zheln. 2020 Dec 26;52(2):s29e2. URI: https://zheln.com/summary/2020/12/26/2/.
Status

As predicted, Zheln is running out of funds.
Nothing happened on Zheln in the past week.
Starting next week, record screening and tagging and appraisals are officially on pause.
However, I will continue to download daily records from PubMed to ensure continuity.
The time to work closely on the business model for Zheln has eventually come. I'm currently working on it and a couple related projects.
More info on the Zheln's future is about to come in the next, Anniversary 30th Zheln Summary Post.
Who Is Zheln For?
Everyone
Watch thorough and concise video-reviews of new important health research on YouTube (Health Science News)
Health Care Practitioners
Stay up to date with published systematic reviews in your AMA medical specialty (Zheln Records)
Academic Researchers
Explore methods used to power this affiliation-free, crowdfunded, living open evidence synthesis (Zheln Protocol)
What Exactly Is Zheln?
In practice, Zheln has got two components: Zheln Records and Zheln Appraisals aka Health Science News.
Zheln Records
Zheln Records are records that came from my Replicated Systematic Subset PubMed query retrieving most of all systematic reviews being published. They are different from plain PubMed records in that I'm tagging them with AMA specialty tags taken from the AMA Physician Masterfile specialty list, so you can browse Zheln Records by AMA Specialty, whereas on PubMed, locating all records relevant to your specialty requires use of very extensive search strategies and is, in practice, unfeasible. Of course, Zheln Record Search is also available.
They are added daily (unless PubMed fails, and it does), most of them were published this fall, and each of them is counting as a true positive by Shojania & Bero 2001 criteria for systematic reviews. There are 864 recent systematic review records on Zheln currently.
As you can see from the Zheln appraisal log and from the flow diagram below, only a (random) fraction of Replicated Systematic Subset records is processed as Zheln Records currently because this is a very high workload (roughly 500 new records daily on average), but not to worry: As soon as I crowd-raise enough money to keep Zheln running ($600/mo), I will make artificial intelligence do the stuff (in fact, it could manage even better than I do). This will involve discussions with machine learning specialists in evidence synthesis, such as Iain Marshall, and will allow stable processing of 100% of records.
Health Science News
Scientific Nuts & Bolts
Zheln is not only an affiliation-free, nonprofit, health-educational project but also a formal scientific study.
Read the preprint of the full-featured academic protocol for the Zheln overview of systematic reviews: DOI 10.31222/osf.io/y2nrb. I also submitted it for PROSPERO registration but was told processing the submission might take up to three months due to very high demand.
It has not been peer-reviewed yet, but I'm eager! I welcome wide discussion and feedback of any sort very much, so please do engage me on Twitter or elsewhere!
Also, I have started contacting the authors and publishers of the systematic reviews I appraise (first on Twitter, then, if no answer, by email) to collect more feedback and possibly resolve any content misunderstandings at my end. Please follow me on Twitter to engage in public discussions; I'm really looking forward to this!
At last, external peer comments on the project have started to appear at ResearchGate.
Zheln Flow Diagram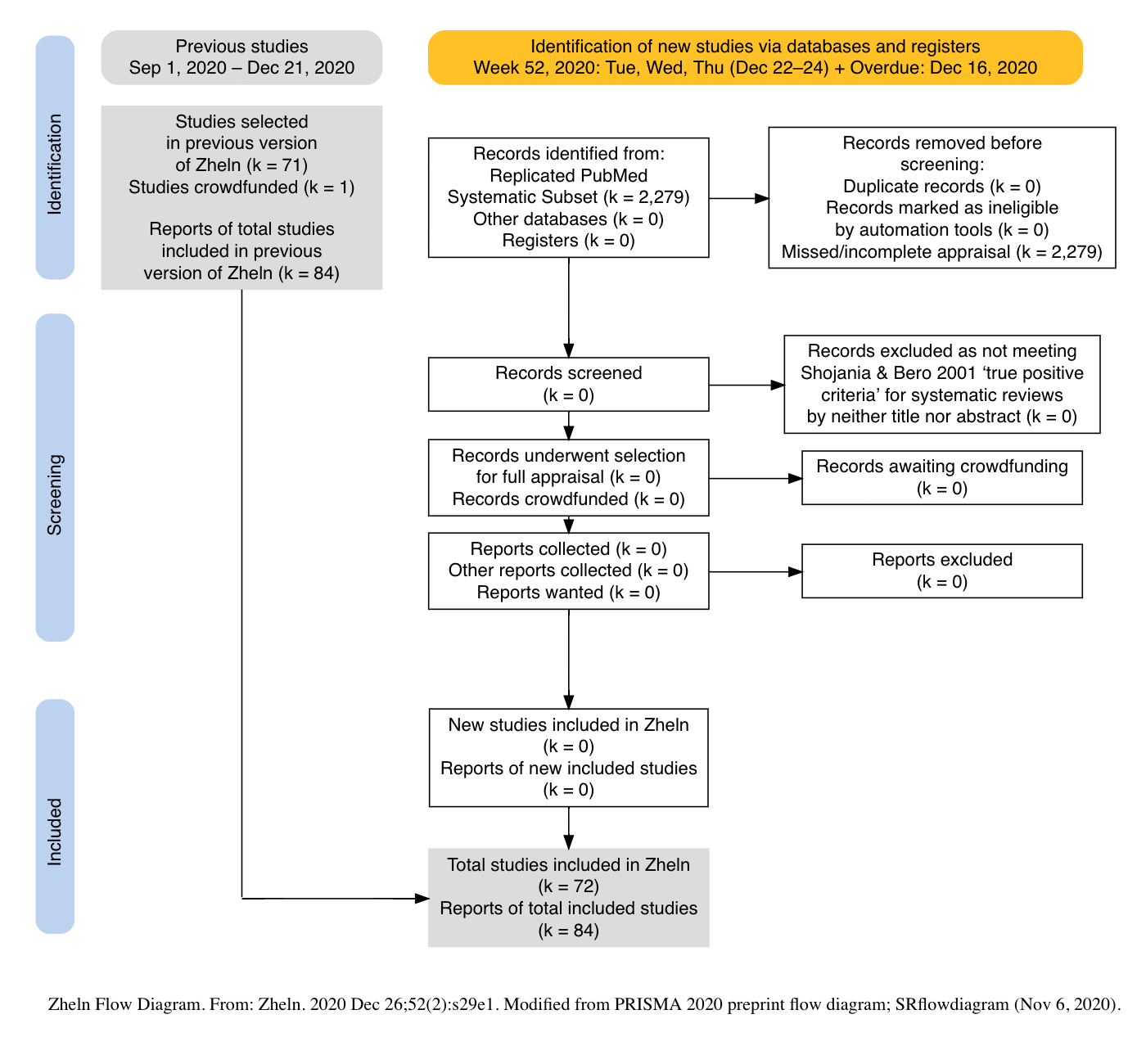 This is the Zheln flow diagram. It shows the flow of systematic reviews on Zheln since the last summary post. The flow diagram is modified from the PRISMA 2020 Statement preprint by Matthew Page et al. and the SRflowdiagram tool by Neal Haddaway. I am deeply grateful to the original authors!
List of Included Studies
Some of the appraisals are already available as videos on YouTube, so click the button next to the appraisal heading to watch them.
Reports Wanted
I had selected these systematic reviews for a critical appraisal with replication, but their reports were unavailable to me. Please contact me if you wish to help procuring them.
What's Next?
Get back on Wed, Dec 30 for the Anniversary 30th Zheln Summary Post
 Browse Recent Systematic Reviews by Medical Specialty
 Read the Academic Protocol for Zheln
Give Feedback and Spread the Word
Email Me about Anything
You can also easily contact me on Twitter, Instagram, Facebook, or Telegram.
Help Crowdfund Zheln
Zheln Is Supported by Crowdfunding Only
Subscribe for $1/mo to $600/mo on  Patreon,  GitHub Sponsors, or Open Collective
 Send Any Amount via PayPal or Open Collective
 Bonus for Star Wars Fans!
Zheln subscription enables you to change the icon of a given Zheln record to a Star Wars symbol of your choice! Learn more on the Zheln subscription platforms: Patreon, GitHub Sponsors, or Open Collective.
All Other Zheln Features Are Free for Everyone
 Search for Appraisals,  Browse by AMA Specialty,  Read Twice-Weekly Appraisal Summaries, or  Watch Daily Video Appraisals on YouTube
I feedback.
Let me know what you think of this article on Twitter
@drzhelnov
!