 The 30th Anniversary Summary Post
2 minute read
Zhelnov P. The 30th Anniversary Summary Post. Zheln. 2020 Dec 30;53(1):s30e1. URI: https://zheln.com/summary/2020/12/30/1/.
Zheln Is Your New Way to Experience Health News
Health News Are Often Misleading, but Not on Zheln
This is because only a single primary study is often presented, whereas on Zheln, you'll find systematic reviews of studies only. Search for reviews now!
Also, the studies themselves may be misleading due to various problems arising from their conduct. Any comprehensive analysis of these problems or attempts to reproduce the review findings are rarely undertaken, while Zheln reviews are critically appraised thoroughly with focused replication (please check the academic Zheln protocol to see for yourself how good our methods are).
At the same time, spurious results are easily disseminated in health news. On Zheln, we cautiously propagate only the most credible, hard-won evidence. Watch Zheln Health News videos on YouTube or consult the list of reviews currently under appraisal.
Health news agencies are also rarely, if ever, independent entities. In contrast, Zheln is fully affiliation-free, fully open, nonprofit, and supported by crowdfunding only. Please help support Zheln.
This combination of systematicness, caution, and independence ultimately makes Zheln your best source of news about health.
Looking for New Research in Your Medical Specialty? Zheln Is Here to Help!
Systematic reviews on Zheln are tagged with AMA specialties, so you can always check your medical specialty page for research updates.
Give Feedback and Spread the Word
Email Me about Anything
You can also easily contact me on Twitter, Instagram, Facebook, or Telegram.
Get back on Sat, Jan 2 for the next summary post!
Nuts & Bolts for Evidence Synthesis Geeks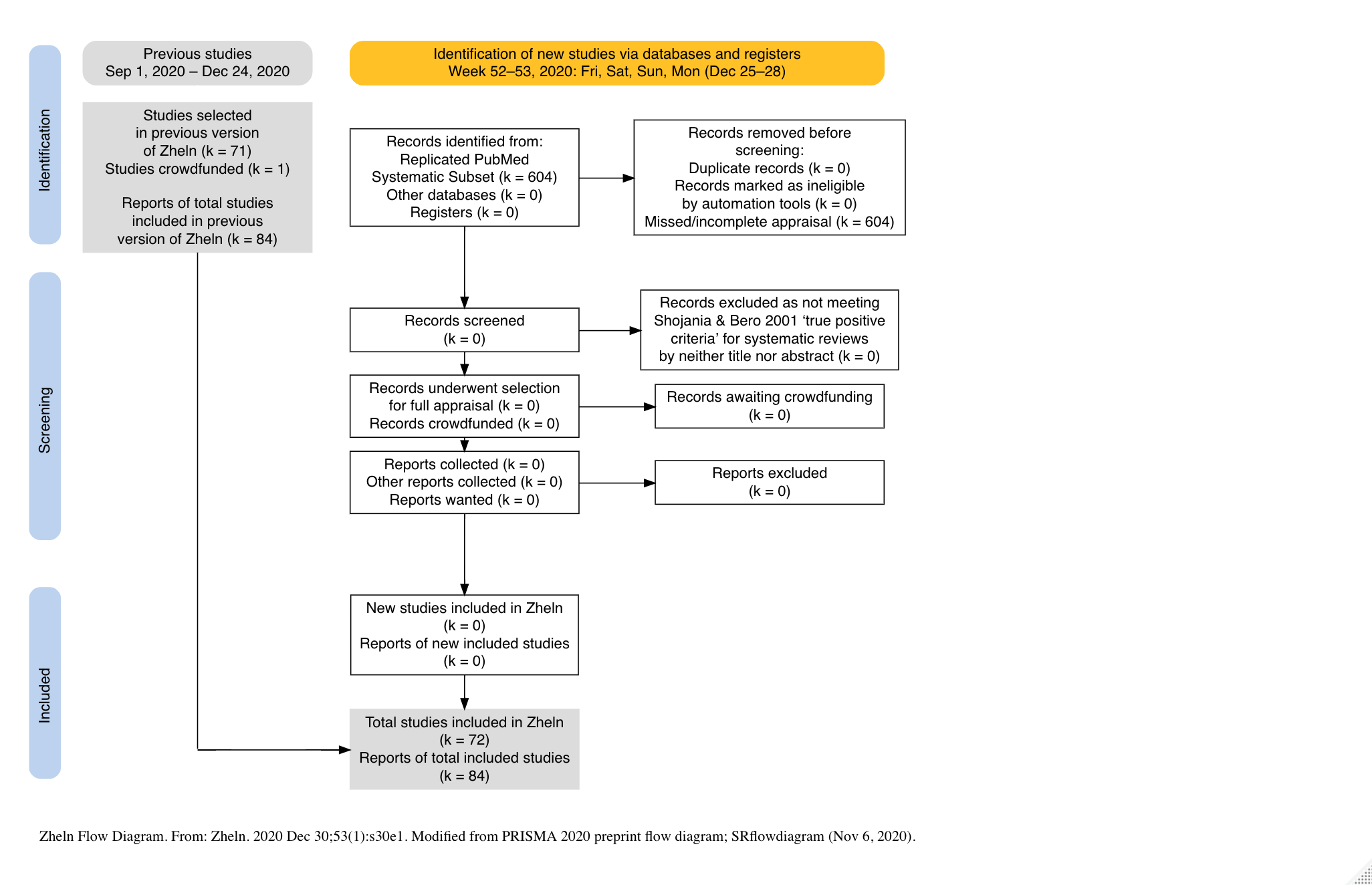 This is the Zheln flow diagram. It shows the flow of systematic reviews on Zheln since the previous summary post. The flow diagram is modified from the PRISMA 2020 Statement preprint by Matthew Page et al. and the SRflowdiagram tool by Neal Haddaway. I am deeply grateful to the original authors!
I feedback.
Let me know what you think of this article on Twitter
@drzhelnov
!